Madison Area YMCA Welcomes Kids Central Manager Iris Oladapo
June 16, 2022
For more information contact:
Madison Area YMCA
Marketing & Communications Department
lcozewith@madisonymca.org
For Immediate Release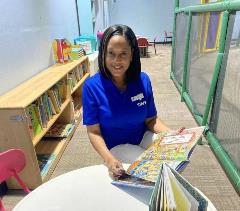 The Madison Area YMCA is excited to welcome Kids Central Manager and Senior Member Services Representative Iris Oladapo.


MADISON, NJ – The Madison Area YMCA welcomes Kids Central Manager and Senior Member Services Representative Iris Oladapo! With more than three decades of experience working with children and aiding in their growth, Iris brings wisdom and fresh ideas to Kids Central, Madison Area YMCA's indoor modular playground for toddlers, preschoolers, and school-age children, featuring Open Play and Babysitting.
Iris Oladapo graduated with a Bachelor of Science in Elementary Education from Long Island University and a Master of Science in Reading Education from Adelphi University. Iris' experience includes her work as an elementary school teacher for six years and owner and operator of a day care center for eight years. Most recently, Iris served as the School Age Child Care Site director at the YMCA of Montclair.
"We are thrilled to have Iris join our team of accomplished and driven Y staff, as she applies her experience to support youth development and programs in Kids Central," said Member Services Director Cathy Landolfi.
"I am passionate about working with children and watching them learn and thrive. At the Madison Area YMCA, I am surrounded by wonderful colleagues, a team-oriented culture, and so many loving families that visit Kids Central. The best part is that my career includes seeing the bright smiles of young children as they have fun and grow at Kids Central," said Oladapo. "I look forward to utilizing my background as an educator and my experience as a small business owner to bring innovative ideas to the Y."
Have a Family Membership? Be sure to visit Iris at Kids Central and say hello! As a part of your Family (with children) Membership, join us for Open Play or Babysitting in Kids Central and enjoy our indoor play space! Learn more at www.madisonareaymca.org/KidsCentral.
Interested in joining one of New Jersey's Top Workplaces as a staff member or know someone who is? Opportunities include joining Iris in Kids Central! At the Madison Area YMCA, we nurture the potential of every youth and teen, and carry that over to our staff. Many staff members have found their calling while working at the Madison Area YMCA. Channel your talent and passion toward helping improve the community's health and well-being and providing opportunities to give back and support neighbors. Join our team of dedicated professionals, enjoy a free YMCA membership and make an impact on the life of children, adults and families. Visit www.madisonareaymca.org/employment to search for employment opportunities today and visit www.madisonareaymca.org/employment /top-3-benefits-of-working-for-a-nonprofit-organization to learn more about why you belong at the Y.
As a mission-driven charitable organization and community wellness center, the Madison Area YMCA is dedicated to nurturing the potential of our youth, providing a safe space for teens, improving the community's health and well-being, and giving back by providing support to our neighbors. For more information about financial assistance or to make a tax-deductible donation, visit our website at www.madisonareaymca.org.
###