Commitment to Youth and Child Safety
We are proud and respectful of the trust parents place in our YMCA. A safe environment for children combined with quality programming is part of our focus on youth development, healthy living, and social responsibility. Our Four Core Values of caring, honesty, respect, and responsibility are part of everything we do. We place great value on providing the most child-safe environment possible and creating an atmosphere where children thrive.

Know the Facts
We pledge to protect the children we serve—and we hope you will, too. Knowing about child sexual abuse can help us better understand what to look for and how to keep it from happening in the first place...
One in ten children will be sexually abused before their 18th birthday. 90% of child sexual abuse victims know their abuser. 60% of child sexual abuse victims never tell anyone. These statistics (provided by Darkness to Light) are staggering and hard to read.
Let's prevent it together. Learn the facts and how you can keep kids safe at Child Sexual Abuse Statistics - Darkness to Light (d2l.org).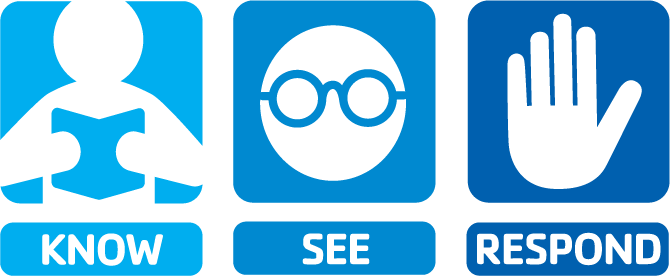 Working Together For Safety
TALK to your child about his or her experiences in school, in sports, in YMCA programs, and in any other activities.
DROP IN on your child's programs.
TRUST your instincts. Don't wait to tell us if something seems "strange." Speak up!
WATCH for warning signs of abuse: • Unexplained bruising or other physical markings • Disturbed sleeping or eating patterns • Abrupt changes in behavior-anxiety, clinging, aggressiveness, withdrawal, depression • Fear of a certain person or place • Discomfort with physical contact • A child who abuses other children
LISTEN AND WATCH for signs of your child receiving special attention that other children or teens are not receiving. This may include favors, treats, gifts, rides, increasing affection or time alone, particularly outside the activities of school, childcare, or other activities.
ASK your child these questions: • Is anyone scaring or threatening you? • Is anyone asking you to keep secrets? • Has anyone said anything to you to make you feel bad? • Is anyone touching you in a way that you don't like?
---
Care You Can Count On - Safety Child Protection Policies
Our YMCA's first steps to safety focus on screening and hiring, training/education, supervision as well as performance management and feedback systems.
*For reporting suspected child abuse or neglect in New Jersey call the Department of Children and Families: 1-877-NJ-ABUSE (877-652-2873) 24 hours a day, 7 days a week, or any Law Enforcement Agency at 911. You are not required to provide proof. Anyone who makes a good faith report based on reasonable grounds is immune from prosecution.