Join the Madison Area YCMA's Togetherhood Committee and Help Serve an Early Thanksgiving Dinner to Senior Citizens
November 11, 2016
For more information contact:
Madison Area YMCA Marketing & Communications
Email: smcevoy@madisonymca.org
For Immediate Release
Join the Madison Area YCMA's Togetherhood Committee and Help Serve an Early Thanksgiving Dinner to Senior Citizens
Caption: Sitting (L-R) Madison Area YMCA Organizational Advancement Director Amie Herman and Madison Area YMCA Community and Member Engagement Manager Gwen Riddick; Standing (L-R) Neil Oldendorp, Marilyn Musielski, Leigh Spielvogel, Mary Bradford and John Hoover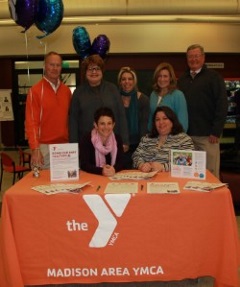 (Madison, NJ) November 11, 2016 – Togetherhood, a YMCA signature program for Social Responsibility, is hosting its first project, Thanksgiving with Friends, on Saturday, November 19, from 2:00 to 5:00 p.m. at The Rexford S. Tucker Apartments, 15 Chateau Thierry, in Madison. Along with the First Baptist Church of Madison, Togetherhood and Y members, the community is invited to help with the event and become a member of Togetherhood.
Serve Thanksgiving fare to the senior residents of Chateau Thierry. Share your stories, hear new ones and make new friends. Madison Area YMCA Performing Arts School staff members are helping with entertainment.
Togetherhood committee members are volunteers who help identify community needs and develop, organize, and implement volunteer service projects that will enrich and benefit the community. Lasting personal and social change can only come about when we all work together to invest in our kids, our health and our neighbors. That's why at the Y, strengthening community is our cause.
Please contact griddick@madisonymca.org to volunteer or to learn more.

The Madison Area YMCA is a 501c3 cause-driven charitable organization dedicated to strengthening community through youth development, healthy living and social responsibility.

###