The Madison Area YMCA Receives $30,000 Investors Foundation Grant ​for Paths to Wellness Programs and Annual Fund
October 18, 2016
For more information contact:
Madison Area YMCA
Marketing & Communications
973.822-9622 ext. 2241
For Immediate Release
The Madison Area YMCA Receives $30,000 Investors Foundation Grant
for Paths to Wellness Programs and Annual Fund
CAPTION: Pictured with the Investors Foundation's check at the Y's Family Center: Madison Area YMCA Board Chair Michael Caulfield; Madison Area YMCA President & CEO Diane Mann; Madison Area YMCA Senior Director of Healthy Living Joseph Gonsalves; Nadine Vitro, assistant vice president and bank manager of Investors Bank in Madison; Thomas McMinn, vice president and market manager of Investors Bank; Robert Zajac, regional executive of Investors Bank and Madison Area YMCA Board member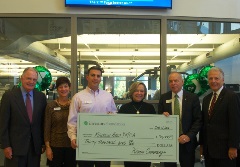 (Madison, NJ) October 18, 2016 – The Madison Area YMCA is pleased to announce that it has received a $30,000 grant from the Investors Foundation, which provides grant funding for non-profit organizations that enrich the communities served by Investors Bank.
The grant will help the Y provide its low-fee and no-fee Paths to Wellness programs and financial assistance through its Annual Fund. Donations to the Annual Fund ensure that all in the community may participate in membership, programming, childcare and educational opportunities at the Family Center and the F.M. Kirby Children's Center.
Paths to Wellness programs include: Community Mental Health Initiative, Delay the Disease (Parkinson's disease), Diabetes Prevention Program, Enhance Fitness, LIVESTRONG at the YMCA, One Step (Multiple Sclerosis) and Project Community Pride, a youth counseling service for teens and their families.
"Investors Bank and the Madison Area YMCA share especially close objectives in serving the needs of our community," said Robert Zajac, regional executive of Investors Bank and Madison Area YMCA Board member. "As a community partner, we are pleased to provide funds to support wellness programs and opportunities for all to participate at the Y."
"Through impactful programs like LIVESTRONG at the YMCA, which has served 230 cancer survivors in our region, this grant will help us meet the growing needs of our community," said Diane Mann, Madison Area YMCA President and CEO. "Investors Bank lives its values in its commitment to the community. It's truly a model for corporate philanthropic involvement."
"It is very clear that Investors Bank's strategic approach to the marketplace is smart and based on very sound values," said Madison Area YMCA Board Chair Michael Caulfield. "Our community is fortunate to receive Investors Bank's meaningful contribution."
Also in partnership with Investors Bank, the Madison Area YMCA participates in the Investors Bank Care2Share Affinity program. The Y receives quarterly donations from the Bank when account holders link their checking or savings account to the Madison Area YMCA. The program is free and confidential. Individuals can sign up by visiting an Investors Bank branch or by visiting myinvestorsbank.com/Care2Share to link or open an account.
Investors Bank is a full-service community bank that has been serving customers since 1926. With over $20.4 billion in assets and more than 130 retail branches in New Jersey, New York City and Long Island, Investors Bank delivers personalized services and products tailored to the needs of its customers. Investors' consumer banking services include complete deposit products, online banking, home equity loans and lines of credit and a fully array of mortgage loans. Serving the business community Investors provides deposit accounts, cash management services, business loans and lines of credit, and commercial real estate financing solutions to small and middle market companies, professional services firms, municipalities and other businesses. Investors Bank is a member of the FDIC an Equal Housing Lender. The Investors Foundation supports non-profit organizations that enrich the quality of life in the communities the Bank serves. Since 2005, the Foundation has dispensed more than $14 million to support initiatives ranging from community and civic improvements to the fight against diseases.
The Madison Area YMCA is a 501c(3) cause-driven charitable organization dedicated to strengthening community through youth development, healthy living and social responsibility. Generous donations make it possible for everyone in the community to be enriched by the Y, regardless of ability to pay, to develop a healthy spirit, mind and body at any age.
###

TAPinto: 10/18/16; Patch: 11/2/16