Madison Area YMCA Announces Day Camps Registration: Quest Camps is the Place to Be for Summer of '23!
January 13, 2023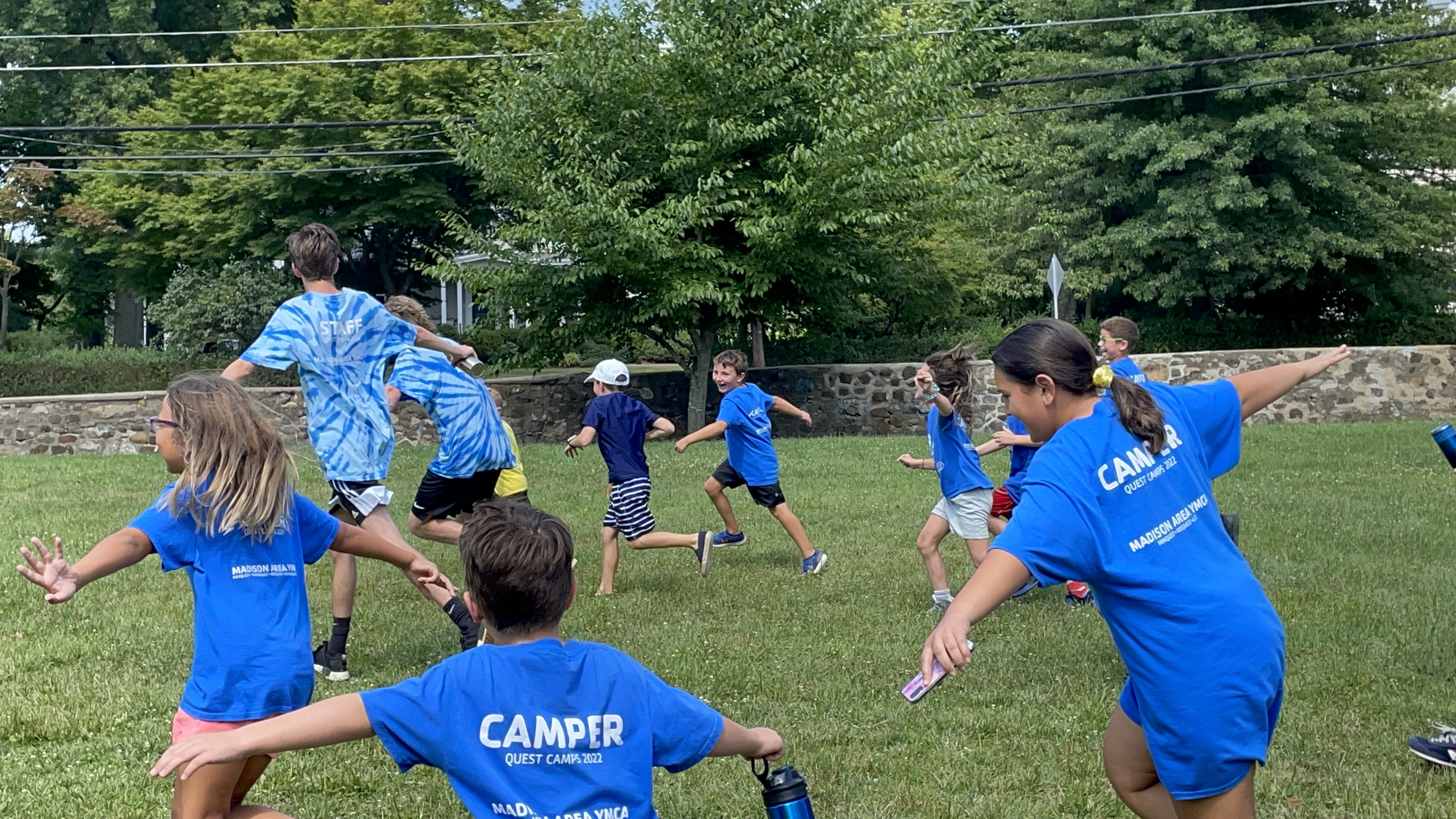 Caption: Madison Area YMCA KidsQuest 2022 campers and staff enjoy the grassy fields at Drew University as they soar into their next camp activity.
---
(Madison, NJ) – January 13, 2023 – Ready to plan for the best summer yet? Join us at the Madison Area YMCA Quest Camps with full-day camps for preschoolers through grade 10. Registration is currently open online for Madison Area YMCA members. Registration for all begins online on Monday, February 6 at 9AM.
This summer, we continue to embark on a fun, safe, and magical journey for our campers to give them the summer experience they will remember! With three locations (Drew University, F.M. Kirby Children's Center of the Madison Area YMCA and the Y's Family Center) for the Summer of '23, Quest Camps is indeed the place to be.
"We have more options for families this year, where campers will build confidence, learn new skills, develop friendships, take part in daily STEM activities and art, teambuilding exercises, and other activities," said Camp Director Finola Colon.
From preschool through 10th grade, campers will have a great experience reaching their goals, building character and independence through a variety of age-appropriate activities led by our thoughtful, trained, and caring Y staff at all sites. Visit our MiniQuest (preschool, ages 3-4), KidsQuest (entering kindergarten - grade 6), and Leader In Training camps (entering grades 7 - 10) pages for more information. NEW to Quest Camps this year is SpecialtyQuest (entering kindergarten - grade 6) located at the Family Center. SpecialtyQuest includes options for a deeper dive into one of our program areas; choose from Gymnastics, School of Performing Arts, Sports, Fine Arts and Y Ninja Gym.
"We are excited to welcome campers old and new to our 5 two-week camp sessions! Not able to come for the full two-week session? No problem! Sign-up for our one-week drop-in program," said Associate Camp Director Alexandria De La Cruz.
Click here to view the 2023 Quest Camps Planner and chart your camper's course, and click here to access the 2023 camp FAQ video!
Camp registration is exclusively accessible online. Plan to join us for the full summer? If your child is attending all five camp sessions, even with a mix of both SpecialtyQuest and KidsQuest sessions, please contact the camp office at QuestCamps@madisonymca.org for a registration appointment. You may be eligible for a full summer discount that requires camp director activation.
Get ready to embark on new adventures and make lifelong memories this summer with Quest Camps!
As a mission-driven charitable organization and community wellness center, the Madison Area YMCA is dedicated to nurturing the potential of our youth, providing a safe space for teens, improving the community's health and well-being, and giving back by providing support to our neighbors. For more information about financial assistance or to make a tax-deductible donation, visit our website at www.madisonareaymca.org.