Take the First Step in Your Career Journey at the Madison Area YMCA!
March 20, 2023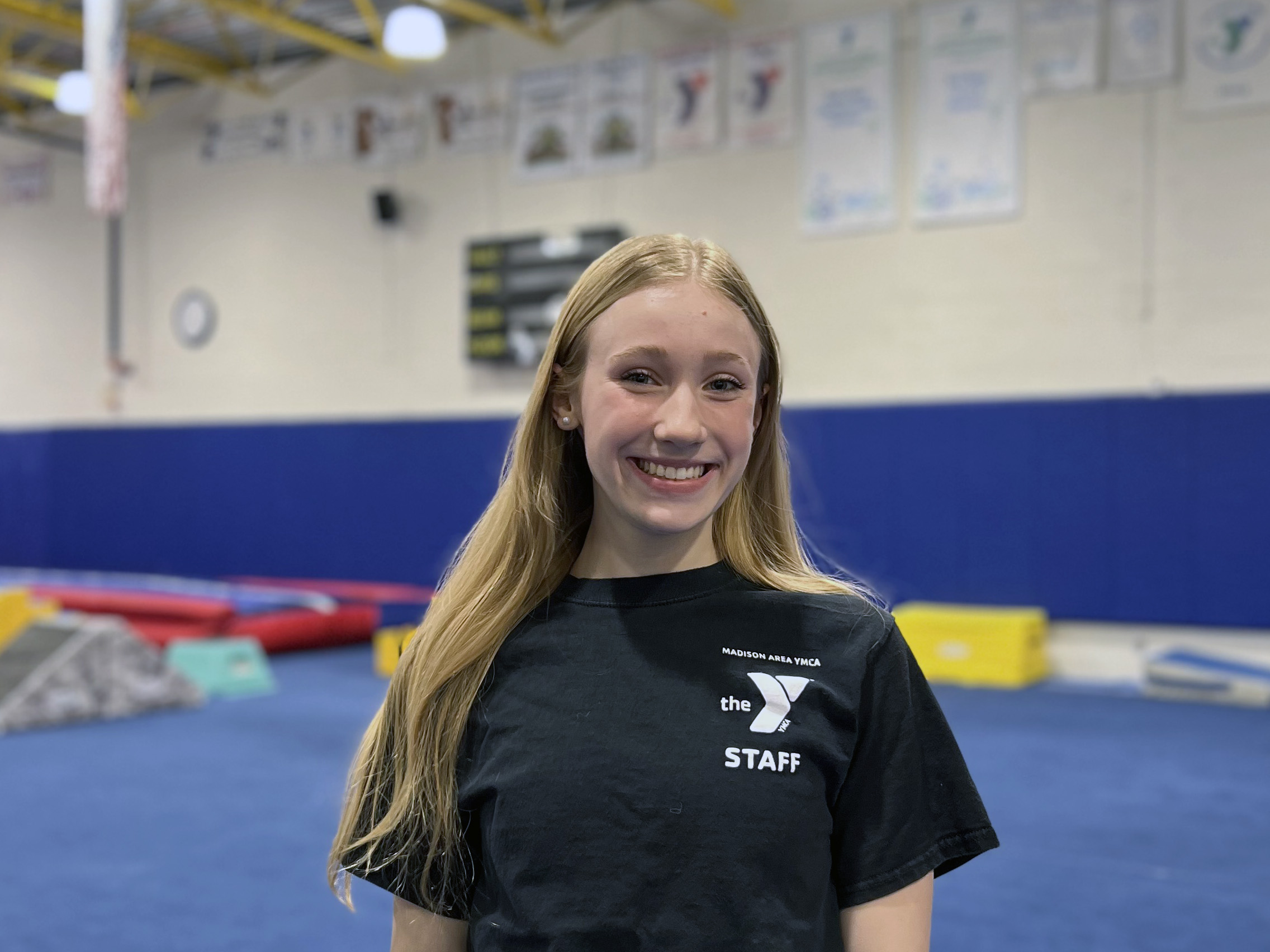 Caption: Assistant Gymnastics & Y Ninja Gym Instructor Aubrey Chase of Madison began her Y employee journey at the age of 14.
---
(Madison, NJ) – March 20, 2023 – Looking to work at one of New Jersey's Top Workplaces? Join our team of dedicated professionals, enjoy a free YMCA membership and make an impact on the life of children, adults and families. With a diverse selection of roles for staff members ages 14 and older, the Madison Area YMCA is the perfect place to begin your first job or continued career journey. Our walk-in hiring events are held at the Family Center, 111 Kings Road Madison, every Tuesday from noon to 3 p.m.
Whether you are in high school looking to get more involved with your community or a college student seeking to gain industry experience, the Madison Area YMCA provides countless benefits for those looking for a great first job experience where you will be able to challenge yourself and grow alongside trained staff members.
Assistant Gymnastics & Y Ninja Gym Instructor Aubrey Chase began her Y employee journey at the age of 14. After growing up at the Madison Area YMCA, Chase states her desire to give back to the Y and broader YMCA community is what made her choose the Madison Area YMCA for her first job. "I always looked up to the people that shaped me into the strong gymnast I am today, and I wanted to be that same role model to the kids I teach," says Chase.
Chase also emphasizes the skills her role at the Y has helped her develop. "I have learned important skills such as patience, time management, and effective communication. I have seen people's love for gymnastics grow, and that has made me so excited to go to work," says Chase. "The Y creates a great working environment. I use the skills I have gained from my first job at the Y throughout my everyday life too."
Em Babiak, a previous Quest Camps Leader In Training (LIT) and incoming Camp Counselor, also highlights why they love working at the Y: "The YMCA is a very supportive environment. Camp staff are all so inviting and the work is special. You and your team are making summer camp unforgettable for the campers, which is an incredibly rewarding experience."
The Madison Area YMCA provides countless opportunities for youth to grow into young professionals within their first job, providing them the necessary tool kit of hard and soft skills they need to succeed. Learn more about open positions and begin your Y journey as a member of our high-achieving staff below!
Positions pertaining to different age bands:
Assistant Swim Instructors

Assistant Youth Sports Instructors

Assistant Gymnastics and Y Ninja Gym Instructors
Student Aid at the F.M. Children's Kirby Center

Quest Camps Counselor

Kids Central Staff
…and many more! Additional career opportunities exist no matter what stage in your career.
We value diverse perspectives, including age and experiences and encourage our staff to serve in positions that allow their individual skills and talents to shine. From personal trainers to accountants to fundraising professionals and everything in between, there's a role for you. All Y staff, including our youngest staff under the age of 18, are supported in a caring and respectful environment, among many trained and experienced colleagues.
Interested in learning more about working for the Madison Area YMCA but not sure where to start? Let us help! Tell us a little about yourself and your interests and email it to Associate Director, Program Operations & Administration Sweta Patel, at spatel@madisonymca.org today!
As a mission-driven charitable organization and community wellness center, the Madison Area YMCA is dedicated to nurturing the potential of our youth, providing a safe space for teens, improving the community's health and well-being, and giving back by providing support to our neighbors. For more information about financial assistance or to make a tax-deductible donation, visit our website at www.madisonareaymca.org.