The Madison Area YMCA Joins the Global #GivingTuesday Movement
November 23, 2015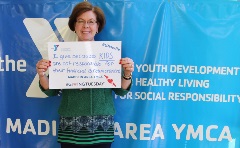 For more information contact:
Madison Area YMCA Marketing & Communications
973.822-9622 ext. 2241
For Immediate Release through December 2
The Madison Area YMCA Joins the Global #GivingTuesday Movement
(Madison, NJ) November 23, 2015 - The Madison Area YMCA has joined #GivingTuesday, a global day of giving that harnesses the collective power of individuals, communities and organizations to encourage philanthropy and to celebrate generosity worldwide.
#GivingTuesday, happening this year on Tuesday, December 1, is held annually on the Tuesday after Thanksgiving. The day follows the widely recognized shopping events on Black Friday and Cyber Monday that kick off the holiday shopping season, #GivingTuesday is meant to inspire people to give back to their local communities through their favorite charities in impactful ways.
Make a donation to the Madison Area YMCA and take your first step in making a difference and building a better us. Together, we make a difference in the lives of thousands of people and a huge impact on each individual we serve.
Help provide donations to the Madison Area YMCA through Amazon by shopping online. AmazonSmile will then donate a portion of your purchase to the Madison Area YMCA! Remember to choose the Madison Area YMCA as your charity of choice. The AmazonSmile Foundation will donate 0.5% of the price of eligible purchases to the charitable organizations selected by customers.
As a member of the Investor's Bank Care2Share Affinity program, the Madison Area YMCA receives quarterly donations from the bank when account holders link their checking or savings account to the Madison Area YMCA. The program is free and confidential. Stop by any Investors Bank branch or visit myinvestorsbank.com/Care2Share to link or open an account.
Buy, lease or finance a new or pre-owned vehicle from Madison Honda and the company will make a $100 donation on your behalf to the Madison Area YMCA.
The Madison Area YMCA is a cause-driven charitable organization dedicated to strengthening community through youth development, healthy living and social responsibility. Generous donations to the Y make it possible for everyone in our community to experience the Y.
Visit the Madison Area YMCA's Facebook page to learn more about #GivingTuesday. For more information, call 973-822-9622 or visit the Y's website at madisonareaymca.org.
###