The Oldendorp Group and the Madison Area YMCADonate Thanksgiving Dinners to Seven Families in Need
November 23, 2015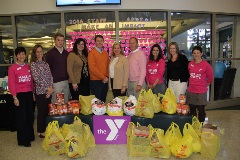 For more information contact:
Madison Area YMCA
Marketing & Communications
973.822-9622 ext. 2241
For Immediate Release to run through December 23, 2015

The Oldendorp Group and the Madison Area YMCADonate Thanksgiving Dinners to Seven Families in Need
Photo Caption L- R: Diane Mann, Madison Area YMCA President & CEO; Oldendorp Group representatives: Debbie Hayford, Agent and Team Support; Charlie Oldendorp, Agent and Team Support; Amanda Peck, Agent and Team Support; Zander Oldendorp, Buyer's Agent; Susan Oldendorp, Listing Agent; Neal Oldendorp, Agent and Team Support; Kare Matrisciano, F.M. Kirby Children's Center Administrative Services Manager; Brigitte Kelly, Project Community Pride Director and Amie Herman, Madison Area YMCA Organization Development Director.
(Madison, NJ) November 23, 2015 – Turkey with all the trimmings, goodies and food store gift cards! The Madison Area YMCA and The Oldendorp Group identified seven families in our community who would appreciate a bountiful Thanksgiving feast courtesy of The Oldendorp Group in Summit. The families are members of the Y, the F.M. Kirby Children's Center and Project Community Pride of the Madison Area.
As a cause-driven charitable organization, the Madison Area YMCA believes everyone, regardless of age, income or background, should have the opportunity to learn, grow and thrive. For more information about financial assistance, the Y's philanthropy efforts or to make a donation, please call 973-822-YMCA (9622) or visit us at madisonareaymca.org.
###