Madison Gymnasts Do Their Coach Proud at Nationals
August 21, 2016
RUSE ON THE LOOSE, COLUMNIST
DAILY RECORD
12:06 a.m. EDT August 21, 2016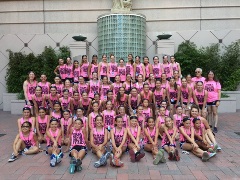 For the first time in 15 years, the Madison Area YMCA Rosettes gymnastics team went to the YMCA National Gymnastics Championships without their coach.
"It was horrible. Not being at Nationals was tough," said Coach Ellen Gavin, who stayed behind for treatment after her recent cancer diagnosis. "But you know what? They all did their job. They dedicated it to me. They would Facetime me before competitions and they would Facetime me after competitions. It was nice. They really pulled together as a team. I couldn't be prouder of them and the coaching staff."
Approximately 2,000 gymnasts and 200 coaches from 100 YMCAs across the country participated in Nationals last month in Long Beach, California. The Madison Area YMCA sent their largest team ever with 62 gymnasts between the ages of 7 and 18.
The coaching squad was led by Associate Gymnastics Director Christina Lopez along with "Professor" Vladimir Peleksic, Meredith Valentine and Cassandra Baumgartner.
"Our girls' respect and support for one another and the other teams at the competition are a testament to what the Madison Area YMCA gymnastics program is all about," Lopez said. "The Rosettes are known for their encouragement, spirit and sportsmanship at Nationals. They rose up for Ellen."
The team's Level 8 gymnasts placed second. Finalists included Grace McCormick, 14, from Madison; Maria Ramos, 18, from Florham Park and Jessica Sterkel, 17, from Madison.
The team's Level 9 gymnasts placed fifth. Finalists included Julia Chinni, 16, from Madison; Kristin Fowler, 18, from Madison and Kaitlin Maroney, 18, from Chatham. Every high school senior on the team made the finals. Gymnasts from Levels 3 to 7 did an excellent job as well, earning individual medals.
"Gymnastics is not a team sport. It's an individual sport. But this team does not know that. When they compete, they're like, okay, if I mess up, the next one says, I'll pick you up. We pick each other up. They don't care about the medals either which is so great," Gavin said.
To honor their coach, each girl wore pink camouflage bows in their hair and pink camouflage ribbons on their shorts with the initials "EG" on them. Pink is Gavin's favorite color and the team wanted the camouflage pattern to represent the Rosettes' army behind her. They enjoyed talking throughout the meet about their coach whenever someone would ask what the letters stood for.
"It was really sweet. They all said they did it for me. Christina told me they were unbelievable. Focused. It was really very nice that they pulled together for me."
Growing up in Staten Island, Gavin didn't take up gymnastics until high school. A neighbor felt the young girl was heading down the wrong path in life and recommended she visit the Staten Island YMCA.
"I straightened up and I started to love coaching so I did local college. I coached straight through from the time I was 16 and up. It's great. It straightened out my life, both my neighbor and the Y."
Gavin began her treatments just as the team was preparing to leave for Nationals. Her doctors told her she'd be out six weeks but the coach was back at the gym in two. She'll continue her chemotherapy treatments once a week for the next 18 weeks, finishing the end of October.
"I would come in the gym and sit in the chair and the kids were just so happy to see me. As long as I was there, that's all that mattered. We're so open in here. They see me bald and they're fine with it because I don't want a child to ever be afraid," said Gavin, who still lives in Staten Island.
"It keeps me alive. I needed to wake up every day. I needed to motivate myself. I don't want to be around cancer patients where everybody is so depressed and they have nothing to live for because I'm always like, no, I have a lot to live for. I have a great family. I have a great team. I have a life. I just love it here. I love the Y. I do."
The Madison Area YMCA, located at 111 Kings Road in Madison, is a cause-driven charitable organization dedicated to strengthening community through youth development, healthy living and social responsibility. For more information about the Rosettes and the Y's Gymnastics class offerings, visit www.madisonareaymca.org or call 973-822-9622.
"It's a lot of lessons we learn together in the gym as a family. They're honestly not just learning about gymnastics. If a kid has a problem, we stop gymnastics and just hang out and talk. Right now there's 86 kids on the team and they range from age 5 to 18. That's a lot of kids but it's so, so worth it."

###