The Madison Area YMCA's Community Mental Health Initiative Awarded $5,000 Grant from the YMCA Tri-State CEO Taskforce and YMCA of the USA
September 30, 2016
For more information contact:
Madison Area YMCA
Marketing & Communications
973.822-9622 ext. 2241
For Immediate Release
The Madison Area YMCA's Community Mental Health Initiative Awarded $5,000 Grant from the YMCA Tri-State CEO Taskforce and YMCA of the USA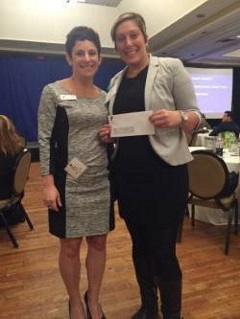 CAPTION: The Madison Area YMCA's Director of Organizational Development Amie Herman and Development Manager Leigh Anne Soroka pictured with a $5,000 grant check from the Tri-State CEO Taskforce and YMCA of the USA for its Community Mental Health Initiative.
(Madison, NJ) September 30, 2016 – The Community Mental Health Initiative of the Madison Area YMCA was awarded a $5,000 grant by the Tri-State CEO Taskforce and YMCA of the USA at a YMCA Tri-State conference held in Mahwah. The grant will be used to support the initiative and subsidize the cost of Mental Health First Aid training for community members.
"We are pleased to partner with the Tri-State CEO Task Force on awarding this grant to the Madison Area YMCA's Community Mental Health Initiative," said Kathe Elwell, director of Donor Relations at YMCA of the USA. "With smart, achievable goals, CMHI is addressing a public health issue, filling a major gap in the continuum of health services at a time when mental health is rapidly becoming a leading issue across the nation."
The Y's Community Mental Health Initiative (CMHI) raises awareness and lowers the stigma associated with mental illness. CHMI also focuses on reducing barriers to mental health care by providing community members with knowledge and skills to increase help-offering behaviors. The Y provides opportunities to become certified in Mental Health First Aid. An evidence-based skills training course, MHFA, is designed for non-mental health professionals, preparing them to know how to help reduce the social distance between people with mental illnesses and others.
The Madison Area YMCA is a 501c(3) cause-driven charitable organization dedicated to strengthening community through youth development, healthy living and social responsibility. Generous donations make it possible for everyone in the community to be enriched by the Y, regardless of ability to pay, to develop a healthy spirit, mind and body at any age.

###

Madison Eagle: 10/11/16, TAPinto: 10/4/16, Patch: 10/11/16,
Scholarshipnext.com: 10/12/16