The Madison Area YCMA's Community Mental Health Initiative Hosted Speaker, Author, Basketball Coach and Mentor Cornell Thomas
November 4, 2016
For more information contact:
Madison Area YMCA Marketing & Communications
Email: smcevoy@madisonymca.org
For Immediate Release
The Madison Area YCMA's Community Mental Health Initiative Hosted Speaker, Author, Basketball Coach and Mentor Cornell Thomas
Caption: The Madison Area YMCA's Community Mental Health Initiative hosted speaker, author and mentor Cornell Thomas who shared his story that exemplified how a positive mindset can transform a person's life.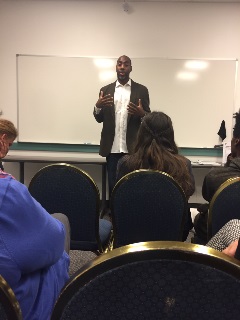 (Madison, NJ) November 4, 2016 – Speaker, author, basketball coach and mentor Cornell Thomas shared his story at the Madison Area YMCA that exemplified how a positive mindset can transform a person's life. Mr. Thomas's "next play" mentality is finding his purpose in life. He is the author of two books with more books coming this fall. He travels all over the world sharing his story and inspiring others. For more information on Cornell Thomas, please visit www.cornell-thomas.com.
The next workshop, "Increasing Optimism" presented by the Community Mental Health Initiative will be Thursday, December 1, at 7 p.m. at the Y's Family Center. Clinical study data shows that by increasing levels of optimism, people can be more productive, live happier, healthier and longer. Participants will be introduced to five key elements of Positive Psychology and discuss how those elements can be better integrated into their day with cognitive behavioral and positive psychology based tools.
The Y's Community Mental Health Initiative (CMHI) raises awareness and lowers the stigma associated with mental illness. CHMI also focuses on reducing barriers to mental health care by providing community members with knowledge and skills to increase help-offering behaviors. The Y provides opportunities to become certified in Mental Health First Aid. An evidence-based skills training course, MHFA, is designed for non-mental health professionals, preparing them to know how to help reduce the social distance between people with mental illnesses and others.
The Madison Area YMCA is a 501c3 cause-driven charitable organization dedicated to strengthening community through youth development, healthy living and social responsibility.

###