F.M. Kirby Children's Center of the Madison Area YMCA Students Participate in "How Are You Feeling?"
October 26, 2017
For more information contact:
Madison Area YMCA
Marketing & Communications Department
smcevoy@madisonymca.org
For Immediate Release
F.M. Kirby Children's Center of the Madison Area YMCA Students Participate in "How Are You Feeling?"
(Madison, NJ) October 26, 2017 – The Kindergarten Wrap Around students at the F.M. Kirby Children's Center of the Madison Area YMCA participated in "How Are You Feeling Today?" Workshop presented by Project Community Pride of the Madison Area YMCA.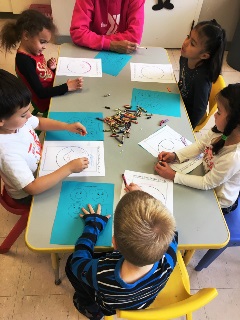 Clockwise from top left: Myla Vega, 5, from Madison; Kyra Johnson, 6, from Morristown; Siena Mitchener, 6, from Morristown; Mark Batsev, 5, from Chatham and Austin Hessemann, 5, from Madison.

This five-session workshop aims to promote healthy awareness of the range of feelings children experience and to help them understand that "all feelings are okay." Students are given the opportunity to explore their own emotions, as well as the emotions of others through the use of art, games and group activities. In the first session, Project Community Pride licensed social worker Christine McIntyre explained various emotions by showing students feeling cards. Then the children had an opportunity to express how they were feeling today through a drawing.
About the F.M. Kirby Children's Center
The F.M. Kirby Children's Center of the Madison Area YMCA is one of the largest early childhood development centers and provides exceptional quality in child care and curriculum-based early childhood education for infants, toddlers, preschoolers, Young 5 students and kindergartners.
As a former elementary school, the Kirby Center facility is specifically designed for children. Located on almost 3-acres of property, the Center has a full-size gym, full kitchen that serves snacks and meals, a pediatric registered nurse on staff and five state-of-the-art playgrounds to serve all age groups.
The F.M. Children's Kirby Center is a member of the prestigious New Jersey YMCA State Alliance, a participating partner in the Horizon Foundation for New Jersey initiative to implement school-based food, nutrition and physical education programs and is also a flagship center for the Healthy U program which teaches preschool children the importance of physical activity and healthful nutrition. Financial assistance may be available for eligible families.
For more information about the F.M. Kirby Children's Center, located at 54 East Street in Madison, please call 973-377-4945 or visit www.madisonareaymca.org.
The Madison Area YMCA is a 501(c)(3) cause-driven charitable organization dedicated to strengthening community through youth development, healthy living and social responsibility.
###