Project Community Pride of the Madison Area YMCA Elated to Receive $4,500 from Stories: Six Event
November 27, 2017
For more information contact:
Madison Area YMCA Marketing & Communications
Email: smcevoy@madisonymca.org
For Immediate Release

Project Community Pride of the Madison Area YMCA Elated to Receive $4,500 from Stories: Six Event
Caption: Project Community Pride of the Madison Area YMCA Director Lisa Sprague; Madison Area YMCA President & CEO Diane Mann; Madison Area YMCA Senior Director of Organization Advancement Amie Herman; Gina Striffler, owner of The Bar Method Madison; Jen Cosgrove and Sue Beattie, owners of CoBe Events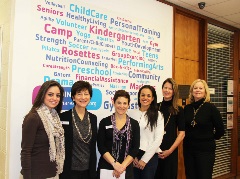 (Madison, NJ) November 27, 2017– Project Community Pride of the Madison Area YMCA was elated to be the recipient of $4,500 from Stories: Six, a special event that showcased a documentary that chronicled the lives of six local women. The special evening, sponsored by The Bar Method of Madison and organized by CoBe Events, took place on November 14 at Fairmount Country Club.
The documentary told the tales of these women and how they evolved over their lifetimes while enduring setbacks and trials, and celebrating simple joys. It was followed by a panel discussion with the featured women.
Local fashion vendors (Forty4, Quartet, Stitch, W by Worth, The Bar Method of Madison, Ward Vintage) set up boutiques at the event. Some of the proceeds were included in the donation to Project Community Pride.
The event motivated and inspired attendees through the storytellers' sharing of their strength, determination and humor. Storyteller Katherine Lynch noted that it was an honor to participate. "Thank you for sharing your stories, for being brave and vulnerable. I know it has inspired me and so many others," she said.
"This will be one of the highlights of my life," said Gretchen Coviello, another storyteller. "It made my heart happy and I honestly feel like a blanket of love surrounds me."
"Project Community Pride and the Y are extremely grateful for this generous donation from Stories: Six," said Madison Area YMCA Senior Director of Organization Advancement Amie Herman. "The need in the community is greater than many understand, and these generous gifts mean that we can continue to provide critical programming and services to those in our community who need us, regardless of their ability to pay."
Project Community Pride of the Madison Area YMCA is an important extension of youth development services for children, teens and their families throughout the Madison Area YMCA's service area that was made possible through the collaboration of community leaders and a partnership with the municipalities and School Districts of the Chathams, Florham Park and Madison. The partnership signifies a major step forward in furthering the Y's commitment to youth development.
The Madison Area YMCA is a 501(c)(3) cause-driven charitable organization dedicated to strengthening community through youth development, healthy living and social responsibility. All are welcome to be enriched by Y membership, programming, community wellness and health-enhancing programs, regardless of ability to pay. Generous donations to the Madison Area YMCA's Annual Fund make it possible for everyone in our community to experience the Y.

###