Preschool Students at the F.M. Kirby Children's Center of the Madison Area YMCA Learn About Hanukkah
December 15, 2017
For more information contact:


Madison Area YMCA Marketing & Communications
Email: smcevoy@madisonymca.org

For Immediate Release

Preschool Students at the F.M. Kirby Children's Center of the Madison Area YMCA Learn About Hanukkah

(Madison, NJ) December 15, 2017— Emily Khan, 4, of Madison and Vivienne Farough, 5, of Madison were among the preschool students at the F.M. Kirby Children's Center of the Madison Area YMCA who learned about Hanukkah, the Jewish Festival of Lights, and sampled latkes and applesauce. Linda Brenneman, mother of her preschooler Eli, and Eli's big sister, Lindsay, who is a Kirby preschool alumna, volunteered at snack time to read stories about Hanukkah and teach the students how to play the dreidel game. Students brought home whatever gelt they collected during the game and gave latkes "two thumbs up."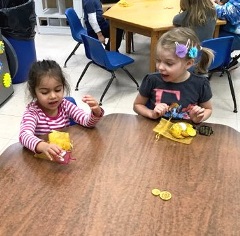 The F.M. Kirby Children's Center of the Madison Area YMCA is one of the largest early childhood development centers and provides exceptional quality in child care and curriculum-based early childhood education for infants, toddlers, preschoolers, Young 5 students and kindergartners. As a former elementary school, the Kirby Center facility is specifically designed for children. Located on almost 3-acres of property, the Center has a full-size gym, full kitchen that serves snacks and meals, a pediatric registered nurse on staff and five state-of-the-art playgrounds to serve all age groups.
The F.M. Children's Kirby Center is a member of the prestigious New Jersey YMCA State Alliance, a participating partner in the Horizon Foundation for New Jersey initiative to implement school-based food, nutrition and physical education programs and is also a flagship center for the Healthy U program which teaches preschool children the importance of physical activity and healthful nutrition. Financial assistance may be available for eligible families.
For more information about the Center, please contact F.M. Kirby Children's Center Director of Child Care Services Ashley Diehl at 973-377-4945 x3226.
As a cause-driven charitable organization, the Madison Area YMCA is dedicated to nurturing the potential of every child and teen, and improving the community's health and well-being and giving back by providing support to our neighbors.
###