Cook for Our Cause Hosted by the Madison Area YMCA and Chef Loryn!
December 17, 2018
For more information contact:
Madison Area YMCA
Marketing & Communications Department
smcevoy@madisonymca.org

For Immediate Release
Cook for Our Cause

Hosted by the Madison Area YMCA and Chef Loryn!
(Madison, NJ) December 17, 2018 - The Madison Area YMCA and Chef Loryn's Café and Catering will hold Cook for Our Cause on Fri., Jan. 11, from 5:30-7 p.m. at the Y's Family Center, located at 111 Kings Road in Madison.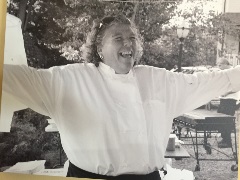 All families in the community are invited to enjoy a night of cooking and eating pizzas and salads with Chef Loryn all for a great cause! While the pizzas are cooking, kids can enjoy LEGO blocks and crafts about healthy eating.
The Chef and her sister and business partner, Colyn Camp, are donating the ingredients for the event. All proceeds raised through Cook for Our Cause will directly benefit the Madison Area YMCA's Annual Fund.

The activity is $35 per family (ages 5+). Please register online at www.madisonareaymca.org or in person at the Madison Area YMCA Family Center's Welcome Center. All guests must present a state or government-issued photo ID to gain access to the facility.
Chef Loryn's Café and Catering, located at 250 Main Street, opened in 2008. Prior to its opening, Chef Loryn was the executive chef for more than seven years at Gary's Wine and Market Place. Prior to that, she was the Sous Chef at Soho 33.

For more information, contact Madison Area YMCA Youth & Teen Director Liz Kryznefski at ekryznefski@madisonymca.org.
As a cause-driven charitable organization, the Y is dedicated to nurturing the potential of every child and teen, improving our community's health and well-being and giving back by providing support to our neighbors.
When you donate to the Madison Area YMCA's Annual Fund, you are donating through the Y and directly to members of our community, making it possible for children, families and adults have access to Y programs that improve their lives. Donations help ensure that Y membership, programs, child care and education are accessible to every member in our community, regardless of their ability to pay. They also help ensure that health and wellness programs stay viable, vibrant and strong.

###