Lots of Fun at the Madison Area YMCA's Holiday Hoopla
December 20, 2018
For more information contact:
Madison Area YMCA Marketing & Communications
Email: smcevoy@madisonymca.org
For Immediate Release
Lots of Fun at the Madison Area YMCA's Holiday Hoopla
Caption: Pictured at the Madison Area YMCA's Holiday Hoopla are: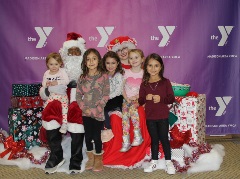 Kaileigh Shannon, 2, of Colonia; Adriana Perrelli, 8, of East Hanover; Briella Perrelli, 3, of East Hanover; Kaegan Shannon, 5, of Colonia; Mia Perrelli, 5, of East Hanover


Chase Ricca, 5, of Mine Hill; Chloe Ricca, 3, of Mine Hill; Avery Heller, 4, of Randolph
(Madison, NJ) December 20, 2018– Families enjoyed the Madison Area YMCA's 2nd Annual Holiday Hoopla on Sat., Dec. 15.
Holiday Hoopla included festive holiday crafts and music, STEAM building activities, games, a coloring station, Dreidel, snacks and hot cocoa.
Elf Ken hosted festive games in the gymnasium. Elf Gus and his Gymnastics Elves had a Y Ninja Gym course set up in the Gymnastics Center. Santa Claus, accompanied by Mrs. Claus, were on hand to hear Christmas lists!
For more information about other upcoming family programs offered at the Madison Area YMCA, visit www.madisonareaymca.org or contact Erin Rowell, Kids Central and Family Programming Manager, at erowell@madisonymca.org or call 973-822-9622 x2222.
The Madison Area YMCA is a 501(c)(3) cause-driven charitable organization dedicated to strengthening community through youth development, healthy living and social responsibility. All are welcome to be enriched by Y membership, programming, community wellness and health-enhancing programs, regardless of ability to pay. Generous donations to the Madison Area YMCA's Annual Fund make it possible for everyone in our community to experience the Y.
###